Little could that first wooden parquet, which adorned the Palace of Versailles at the end of the 17th century, have imagined that it would be surpassed in strength and durability without losing its characteristic nobility. Reinterpreting its natural grain, the ceramic parquet has burst in to dress up the most diverse spaces, innovating with materials such as porcelain and with designs inspired, even, in handcrafted marquetry. With four versatile Roca collections as a backdrop, we present you up to 5 advantages that ceramic flooring offers over wood flooring, inviting you to evoke the purest nature without renouncing to the maximum elegance and hardness.
Natural elegance
Naturally, a ceramic flooring inspired by wood must perfectly reproduce the irregularity of its grain and the warmth of its features, not only when it emulates the untreated material but also when it represents careful woodwork. By experimenting with shades and nuances, ceramic parquet pays homage to the finest woods, imbuing them with their classic elegance and conveying their unmistakable naturalness.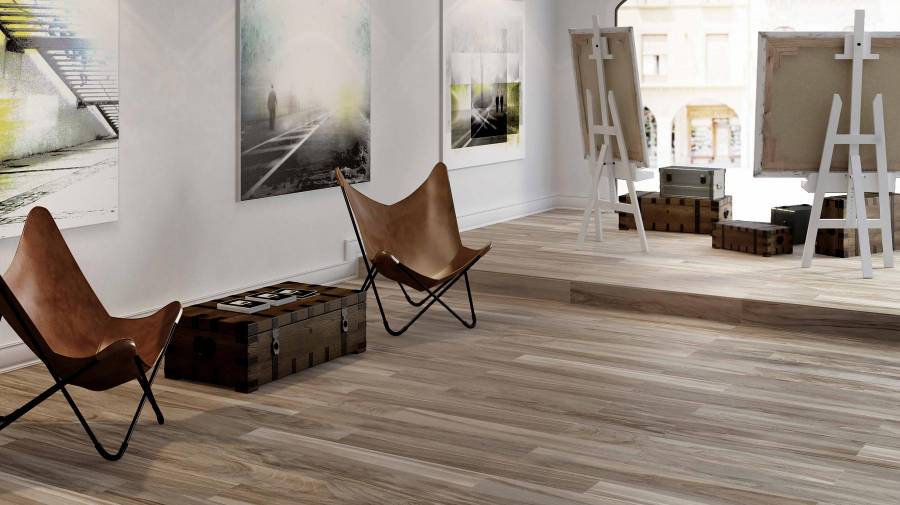 Strength and durability
To improve the performance of natural wood, ceramic flooring is reinforced with materials such as porcelain tiles. While wood suffers from scratches and stains, ceramic composites are highly resistant to wear and impact, making them an ideal choice for outdoor flooring or high-traffic areas. By combating solar radiation or humidity, porcelain flooring keeps its original appearance and colour intact. And because it is non-porous, it not only absorbs less water but also prevents the accumulation of dirt.
Versatility
Nowadays, ceramic tiles for bathrooms or kitchens inspired by wood can be conceived as flooring or cladding, allowing you to opt for harmonious compositions perfectly integrated in each space. To achieve this unified style, the ceramic parquet collections include pieces such as steps and skirting boards, which perfectly complement kitchen, bathroom or even living room floors. Seeking the beauty of unique creations, they also innovate with tiles of different sizes and designs to surprise with shades and patterns that can reflect even the most elaborate craftsmanship.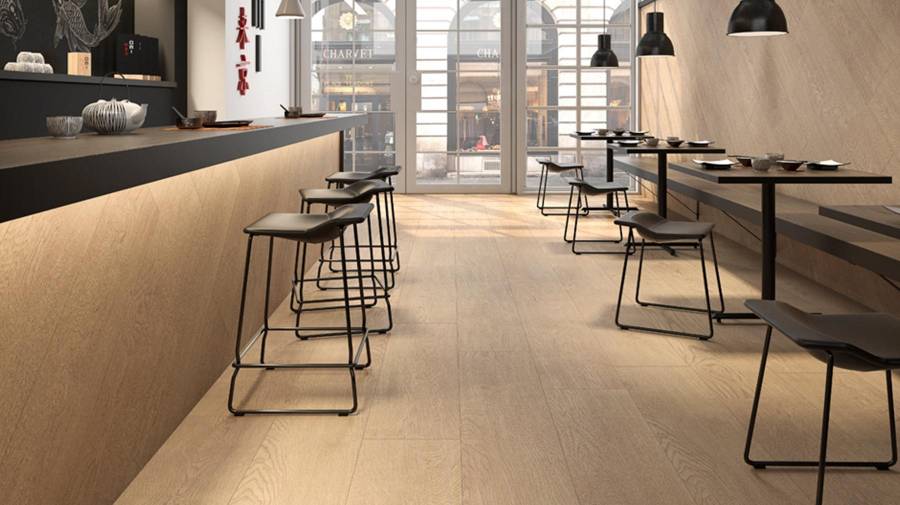 Maximum safety as a bathroom floor
When we choose the flooring for key spaces such as the bathroom or kitchen, we look for the peace of mind provided by features such as anti-slip properties. Compared to the limited finishes offered by wood, the ceramic parquet can be reinforced with new materials and textures to ensure maximum safety in wet or busy areas. Thus, ceramic tiles can become the perfect option to be installed as bathroom or kitchen flooring, but also to shape even original shower trays.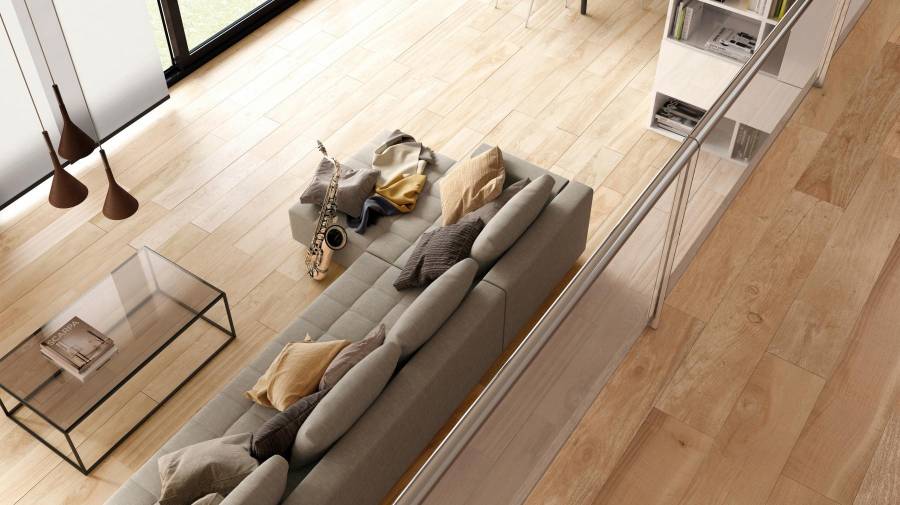 Easy maintenance and cleaning
The ceramic floor manages to imitate wood not only improving its design and resistance but also avoiding the complexity of its maintenance. To keep it in perfect condition, the ceramic parquet does not need waxing or polishing, just use water and the usual cleaning products to keep it looking as good as the first day. Even with the most abrasive products, good results can be achieved, as they do not cause any damage to the tiles.

LICEO
Inspired in Northern European cabinetmaking, the Liceo collection offers a wider than usual format that imitates the natural grain of the wood and the nuances of the varnish. It is available in four colours: Maple, Grey, Oak and Moka.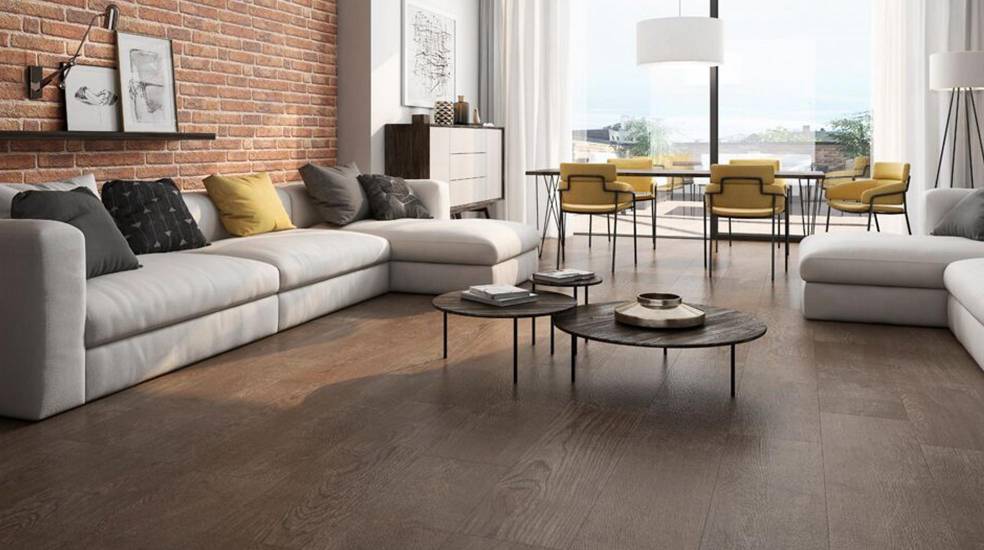 BORNEO
Sober and versatile, Borneo stands out for the safety offered by its anti-slip Deck pieces, which reproduce a raised decking ideal for wet areas such as swimming pools. It has five possible finishes: Grey, Ash, Oak, Taupé and Sapelli.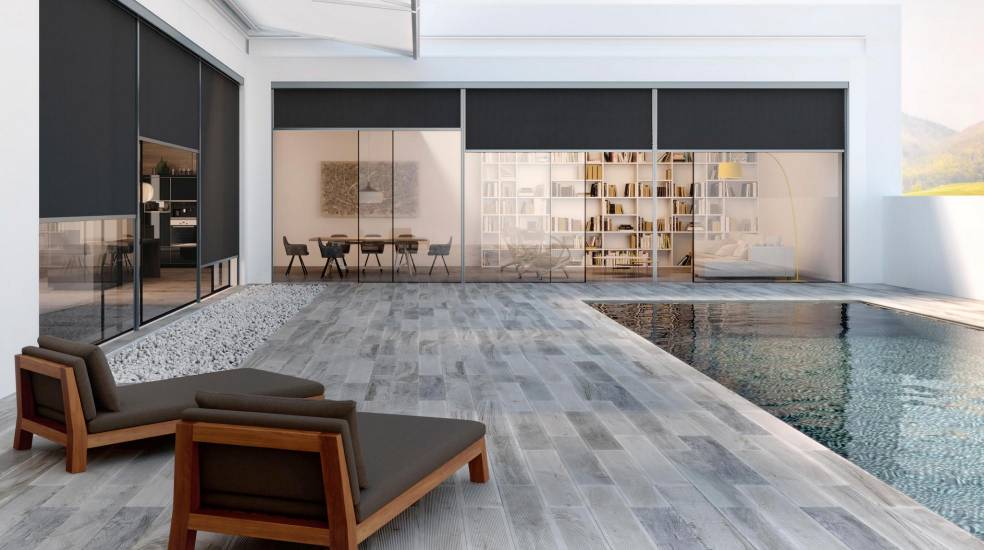 OCTOBER
Imitating watercolour-painted wood, October experiments with four plain finishes - Spruce, Grey, Oak and Natural - and with its Chateau decorated versions, which emulate classic marquetry games by juxtaposing strips with different widths, patterns and tonal intensities.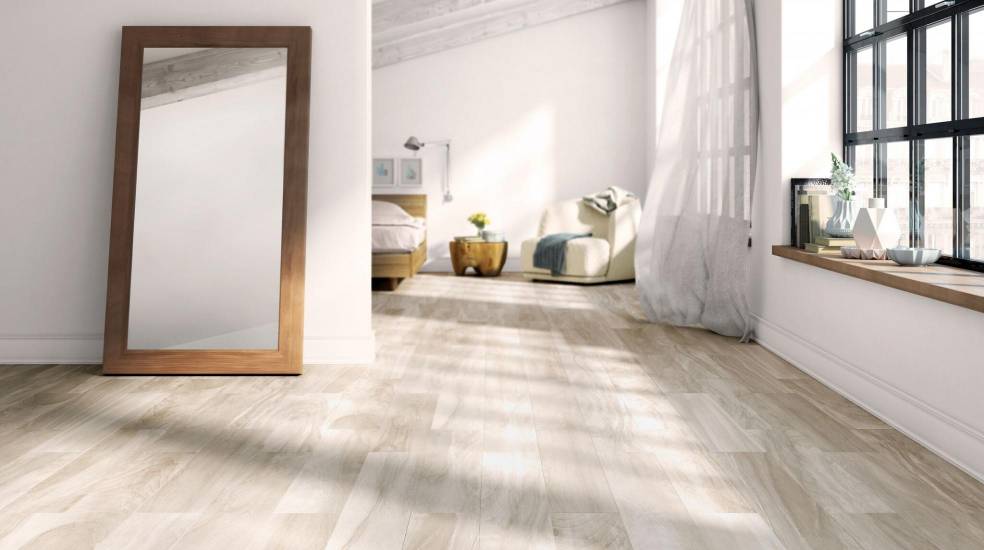 FLAMANT
With smaller pieces with a unique worn look, Flamant offers four shades - Grey, Spruce, Oak and Ebony - in plain or decorated versions, with up to seven different designs that reproduce flowers or geometric figures to achieve the most inspiring compositions.