Sometimes the routine of everyday life invites us to stop and simply feel. To sharpen our five senses and recreate ourselves with sounds, aromas, colours or textures. Reinterpreting the most inspiring nuances and reliefs, bathroom and kitchen ceramics has sought to evoke these sensations with natural wall and floor tiles. To shelter you in the warmth of wood or in the rough touch of stone, we present four collections with an authentic organic soul, four reflections of nature with porcelain essence to guarantee maximum resistance and durability.
THE STONE. The naturalness of slate or the elegance of Italian piacentina.
Because the texture of stone can fit in with different styles and personalities, Roca has reinterpreted its characteristic reliefs in collections of stone-style bathroom or kitchen ceramics with the highest quality standards.
With Cliff the charismatic aesthetics of slate resurfaces as a natural wall and floor covering, particularly suitable for high-traffic spaces that require the highest resistance to wear and tear. As a coloured porcelain proposal, Cliff tiles have an extra hardness that will meet expectations not only in crowded places but also on outdoor facades.
Available in the traditional Slate Black colour, as well as in White and Grey, the pieces in the Cliff collection will retain their original tone over time. As a distinctive touch, you will be able to combine its special decorated cobblestone base with up to four plain pieces in different sizes, where you will have the possibility of choosing the rectified range, which visually eliminates the joints between tiles.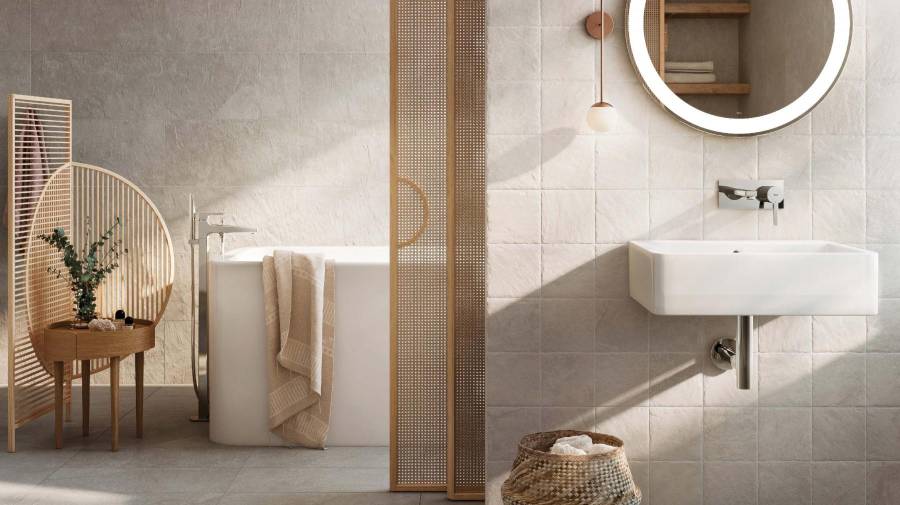 Travelling through time and space, the Piacentina collection chooses to reproduce the unmistakable roughness of this traditional Italian stone to give shape to industrial-inspired environments, both in homes and in public facilities, with all the resistance of porcelain tile being embodied in the most natural way, with the mineral finish of the Piacentina itself at the service of evocative compositions.
Available in three shades -White, Grey and Sand-, Piacentina offers a high range with smooth and rectified edges, and three more formats in different sizes. You will have a whole range of aesthetic possibilities at your fingertips, in which you can incorporate its decorated version that reproduces a mesh.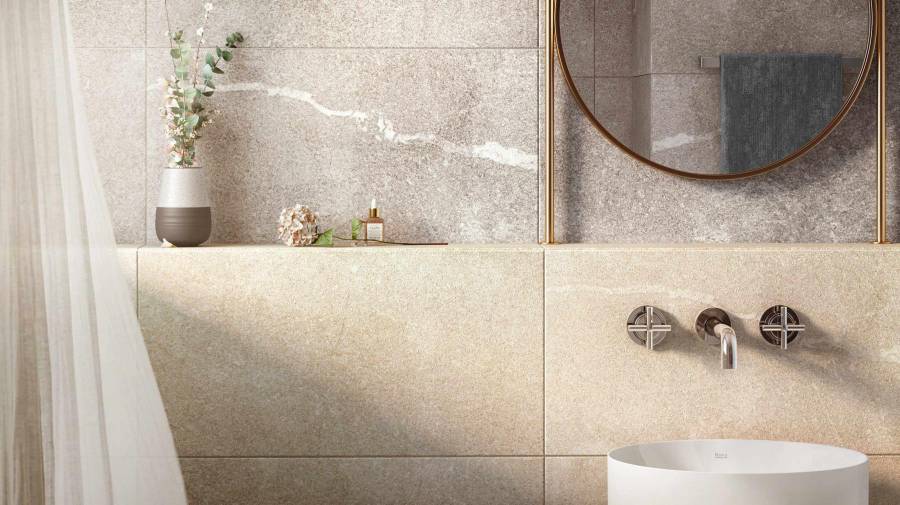 WOOD. The strongest joinery or the nobility of the natural grain.
Few materials make us feel as in touch with nature as wood. By reinterpreting its warmth, Roca has managed not only to reproduce its profiles and natural features but also to improve its performance in exclusive collections of wood-style kitchen and bathroom ceramics.
Choosing Liceo means choosing the maximum resistance in coloured porcelain tiles. Specially designed for spaces with very high traffic, this natural floor is backed by the Rock&Rock collection, with extraordinary technical features that guarantee maximum durability.
Inspired by Northern European cabinetmaking, Liceo stands out for offering a traditional format that is wider than usual. Its markedly classic character is demonstrated in its four shades – Maple, Grey, Oak and Moka – as well as in the realistic details that reproduce the grain of the wood or the nuances of the varnish.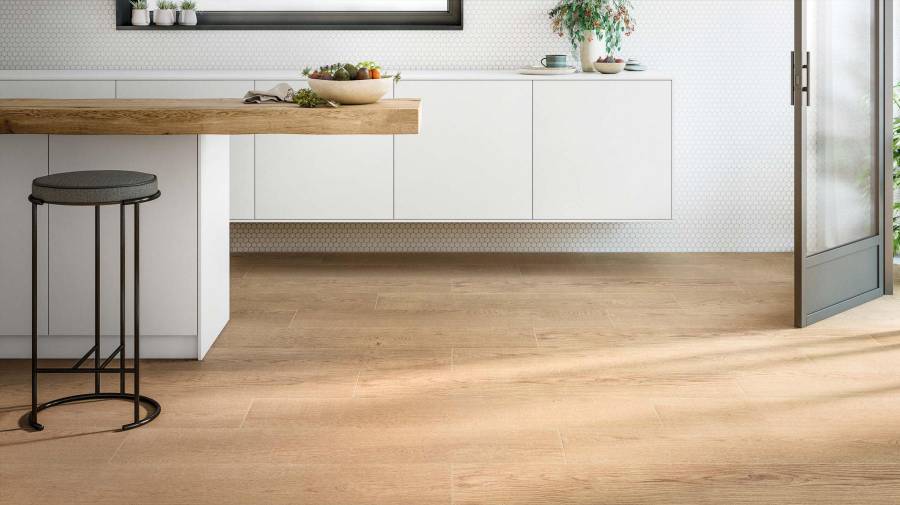 With Flamant, nature in its purest form invades walls and floors. Styles inspired by expeditions, botany or basket weaving can take shape with these tiles that emulate natural, untreated wood.
In a unique format in the form of an elongated plank, Flamant reinterprets steamed wood with white veins with a worn appearance, offering multiple configuration possibilities. Its four shades – Grey, Fir, Oak and Ebony – are available not only in plain pieces but also in up to seven decorated versions with which you can create the most inspiring combinations, emulating carefully crafted marquetry.
Because stone and wood can find their place in any public or private space, enjoy the best of nature with the highest performance of porcelain ceramics.