The warmth of home, the freshness of nature, the originality of craftsmanship, the perfect charm of the imperfect… The rustic kitchen and bathroom tiles, as well as the tiles and floor tiles with a certain country air, have that special halo that exalts the small details, those that allow to turn a simple room into a cosy place. As there is not only one way to do it, Roca proposes up to 7 collections to decorate the bathroom with a rustic style but also to give personality to the living room or even outdoor terraces: inspired by textures such as clay, noble materials such as wood or unique creations such as the hydraulic tiles to go for a delicately warm style.
Hydraulic tiles: period ambience for modern vintage bathrooms
The Gracia collection pays homage to these works of art that reached their peak of splendour with the emergence of Modernism at the end of the 19th century. After adorning Levantine palaces or exclusive residences on the Côte d'Azur, hydraulic tiles can also dress up your home. Gracia offers a double format -for flooring and cladding- and a double satin finish -White or Multicolour- to help you relive an era of unequalled compositional richness.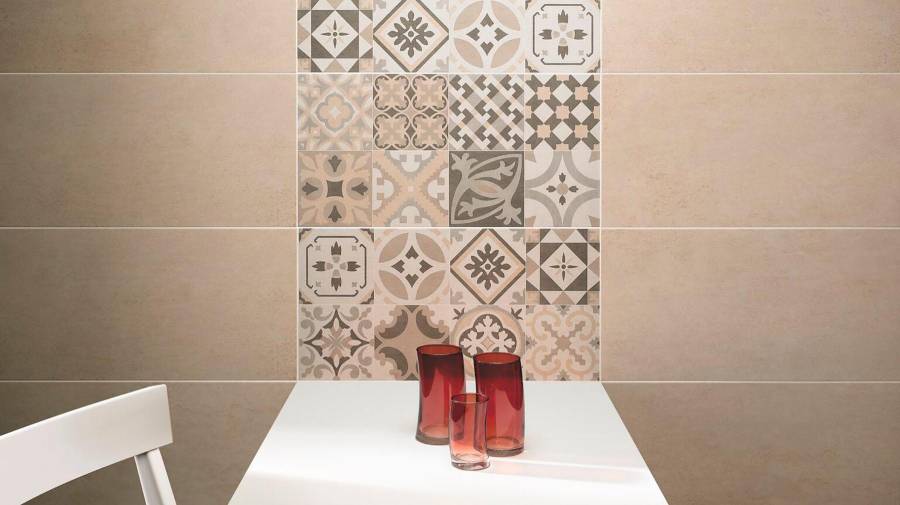 Majolica technique: the metal enamel craft tradition
Evoking the majolica technique of the Italian Renaissance and its peculiar glazed earthenware with metallic oxides, the Maiolica collection Maiolica proposes to dress the walls with rustic tiles that emulate lace or wallpaper. Its soft water reliefs are available in 6 colours -White, Biscuit, Taupe, Aqua, Blue Steel and Tender Grey-, in a plain version or decorated with up to 6 different motifs, all of them with a handcrafted degraded appearance and the final touch of their matte finish.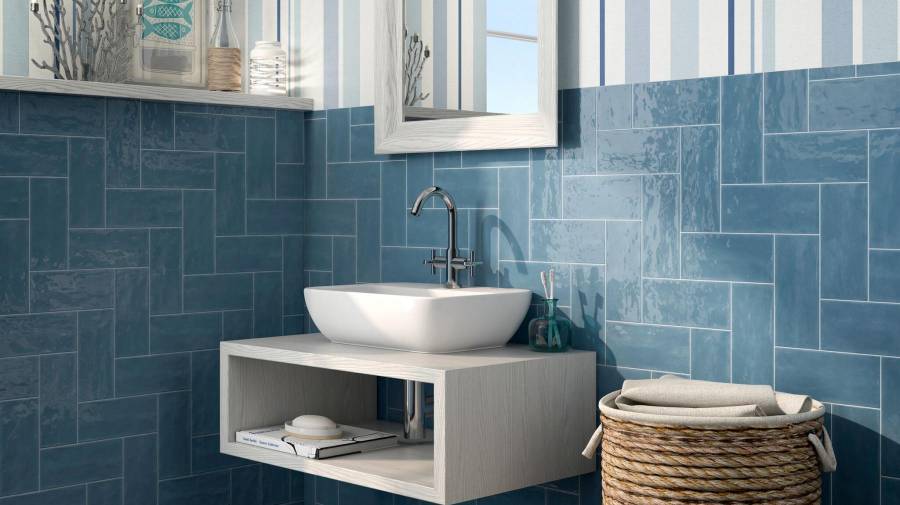 With the same inspiration but with a glossy finish, the Arlette flooring is committed to femininity and sophistication in rustic or vintage style spaces. In addition to the plain format in five neutral colours -White, Grey, Beige, Mink and Aqua-, Arlette offers a checkerboard mosaic that will give a feeling of spaciousness in kitchens or small bathrooms thanks to the particular effect of its relief.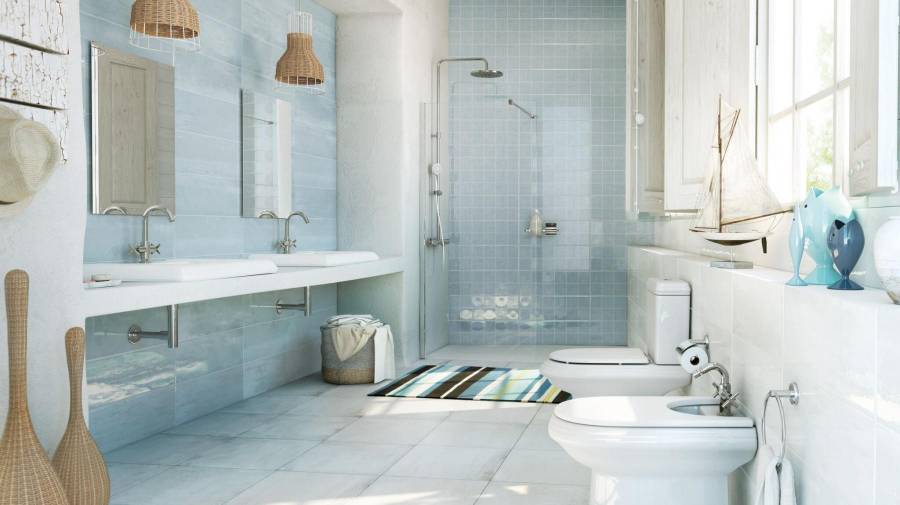 Cement or terracotta: aged textures for rustic bathrooms or terraces
With a delicate French spirit, the Colette cladding offers rustic tiles full of charm in which the unique irregular cement finish takes centre stage. Available in six colours -White, Grey, Beige, Mink, Blue and Navy-, the combination possibilities are multiplied with its mosaic, which brings together different intensities of the same tone; and with the Premier series, which simulates random brushstrokes with a worn appearance without losing the final touch of its satin finish.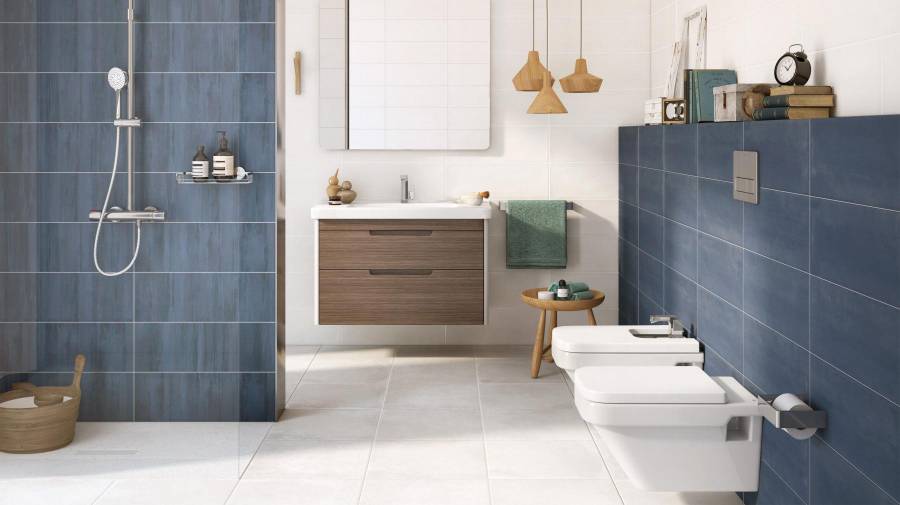 The naturalness of the wood: untreated or in marquetry works
The sinuous grain of wood, the unmistakable warmth of its hues… The Flamant tiles, in the shape of an elongated plank, are assembled with the highest porcelain performance to exude naturalness both in their plain format and in their seven decorated versions emulating marquetry work. With a sober matt finish, these rustic tiles allow multiple configurations as cladding or flooring, in four colours inspired by fine woods: Grey, Fir, Oak and Ebony.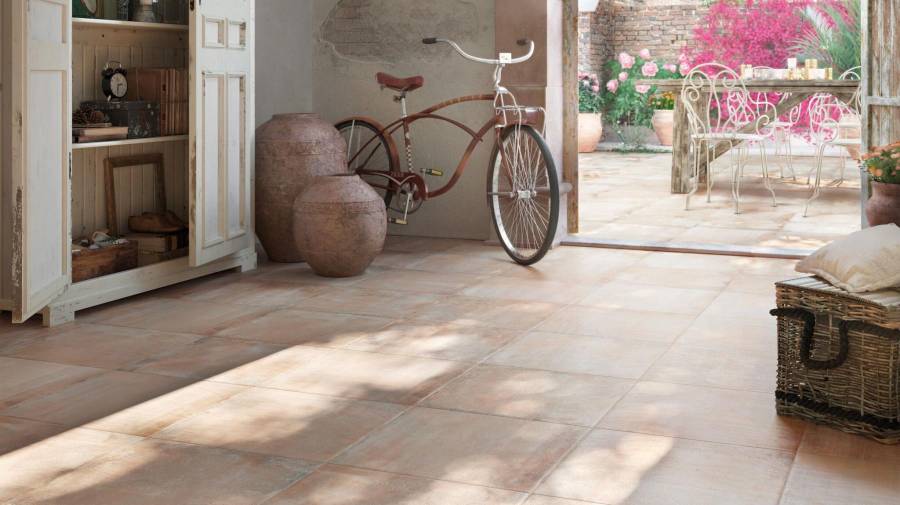 Finally, the Sequoia porcelain tile collection is inspired by untreated wood to give shape not only to interior design environments but also to high-traffic outdoor spaces. With a focus on functionality, Sequoia does not renounce rustic design in its profiled tiles in four shades with a satin finish: Wenge, Ebony, Ash and Grey.