From the classics that never die to the new milestones of technology, bathroom decoration has been able to reinvent itself to look to the future without losing sight of the past. While the traditional elegance of marble, the freshness of natural wood or the evocative spirit of vintage bathrooms continue to find their place, contemporary design is making its way in the form of intense tones, geometric patterns or integral solutions in search of your wellbeing. If you want to know the latest bathroom trends, today we bring you 7 ideas to be up to date.
1. The presence of marble
There are classics that reinvent themselves century after century and a good example are the marble walls and floors, especially in its Calacatta version, with grey veins on a white background. Able to make you travel to ancient Rome, to reconnect you with the American Mid Mod or to help you create a modern bathroom with a nostalgic wink, we suggest you to install imitation marble tiles in porcelain. Not only will they provide you with that elegant style that does not understand fashions, but they will also free you from the maintenance needs of the traditional material.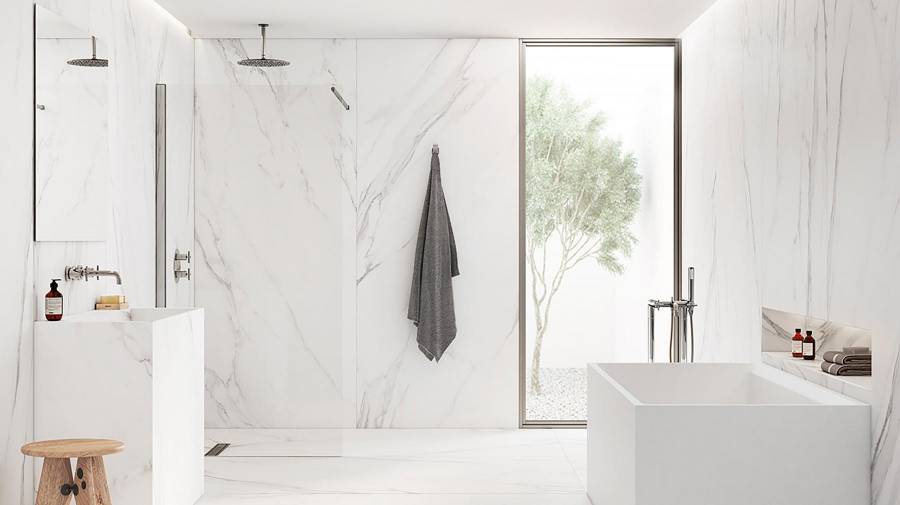 2. The naturalness of wood, plants and flowers
Contact with nature allows us to regain our balance, so it is not surprising that bathroom decoration continues to use plants or colourful flowers to bring warmth and a sense of comfort. Ideal for communing with the Feng Shui philosophy, or with styles such as Mediterranean or Nordic, we encourage you to put a little bit of the countryside in your home by choosing wooden bathroom furniture such as Lander, washbasin structures such as Natura or waterproof wooden worktops Savana.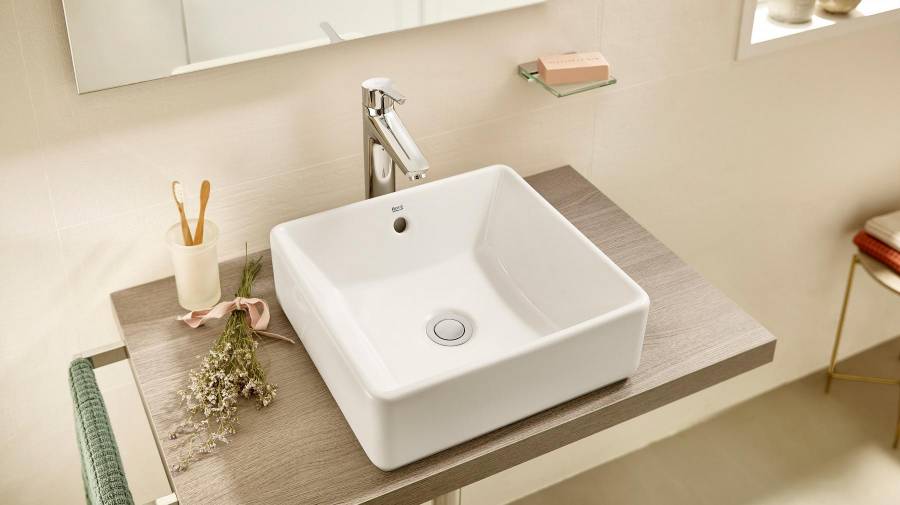 3. The sophistication of black
Any element can assert its presence with a black finish. Therefore, the tone of sophistication and elegance is gaining strength beyond the bathroom furniture. Dare with black taps like those of Insignia or Naia, with the black shower enclosures Line o con los accesorios de baño negros de Rubik o Tempo. A charismatic detail designed for those who refuse to go unnoticed.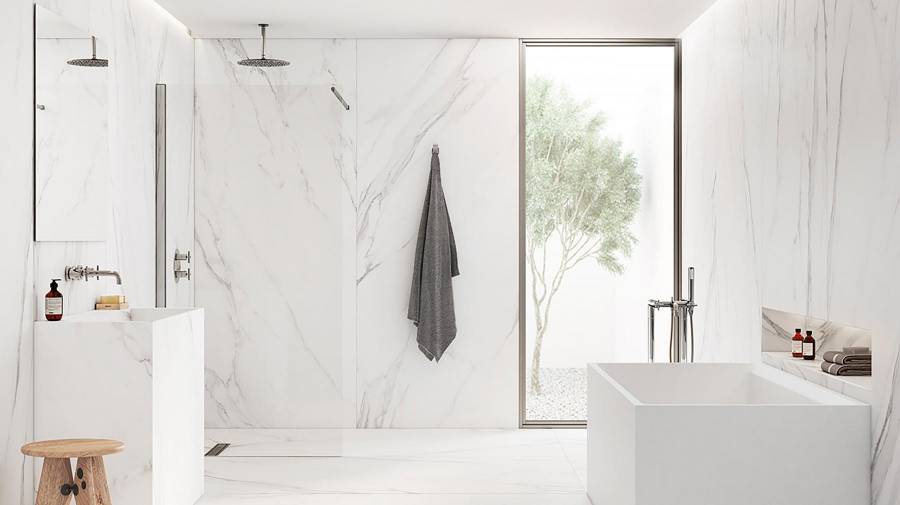 4. Colour contrasts
The colour palette is so wide that black could never act alone… Vivid and intense shades are combined with softer and more sober ones in coloured bathroom tiles such as Samba or St Tropez, in washbasins and toilets from different finishes such as those in the Beyond collection and in anti-slip shower trays such as the porcelain solutions in Senceramic® or the resin ones in Stonex®….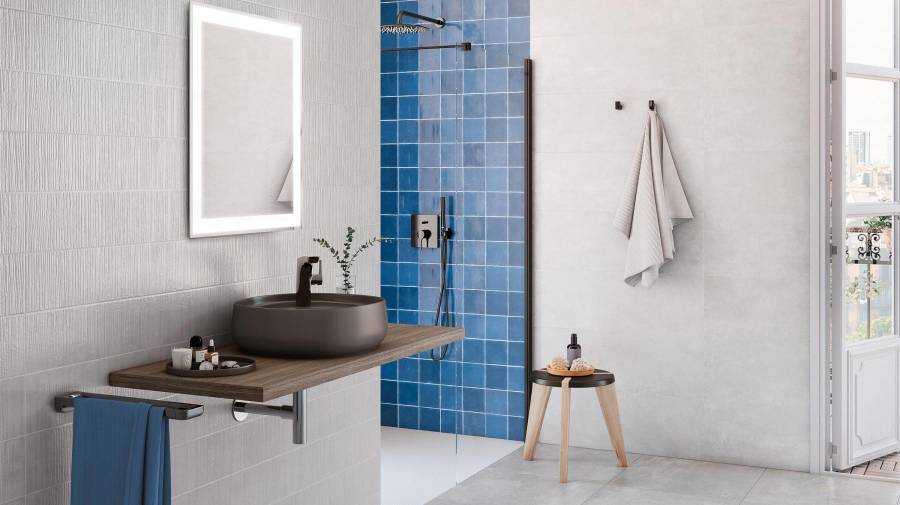 5. The careful symmetry of the geometric forms
Lines, angles, polygons… There are no limits for geometry in the most diverse bathroom designs because you can mix in the decoration from a round mirror with perimeter lighting to a wide range of geometric tiles, including proposals reminiscent of wallpaper. Surrender to the echoes of Art Deco or Mid Century Modern also with countertop washbasins or free-standing bathtubs that can play with their shapes, colours and finishes.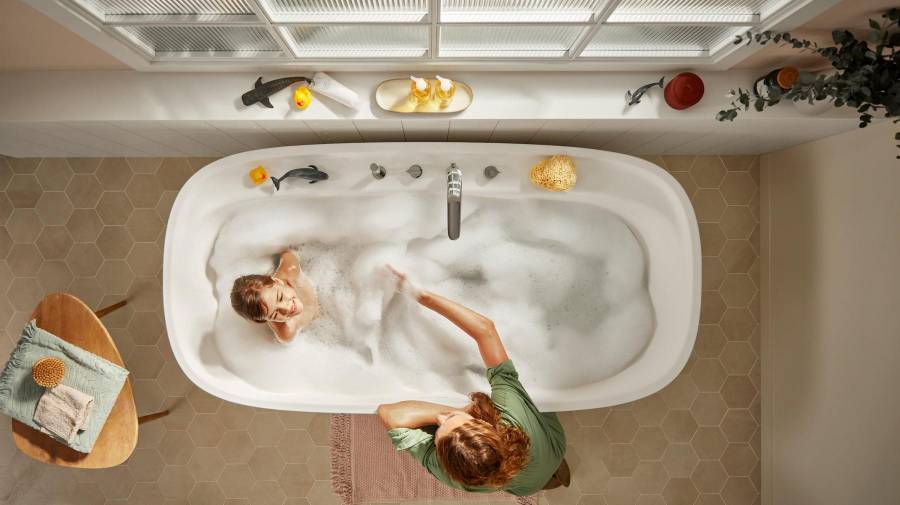 6. Advances in technology
If you are one of those who are looking for all the comforts of a modern bathroom, you cannot overlook the In-Wash® toilet's total hygiene proposal with water jet or the glass flush plates that activate the flushing of the cistern by means of presence sensors. Get ready for the future of the Internet of Things (IoT) with solutions that manage to anticipate your needs and meet your expectations at all times.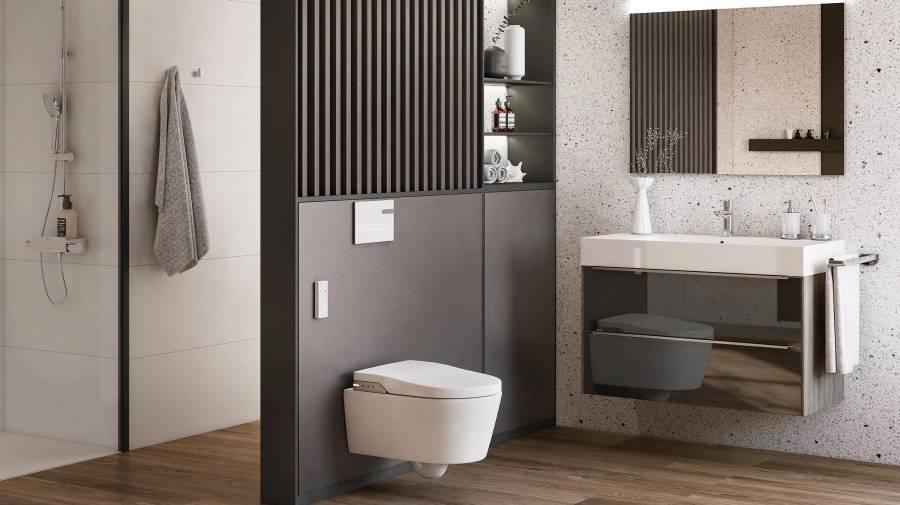 7. The retro feel of vintage style
Finally, moving towards the maximum expression of innovation is not at odds with nostalgia, with going back to those first concepts of bathroom decoration where every detail had a reason. The Carmen collection Carmen embarks on a journey to the past to highlight the value of porcelain, wood, marble and glass. Handcrafted brushstrokes give shape to furniture, taps or bathtubs that, while evoking other times, do not renounce the latest features, such as the Rimless technology that facilitates the cleaning of the WCs.